How are Fixed Value Cards Different from My Current Bento Cards?
Fixed Value cards are pre-funded Bento cards suitable for per-diems or one-off spend requests. 
To simplify your card experience, the standard Bento cards you use today will continue to function in the same way, but will now be called Spend Limit cards.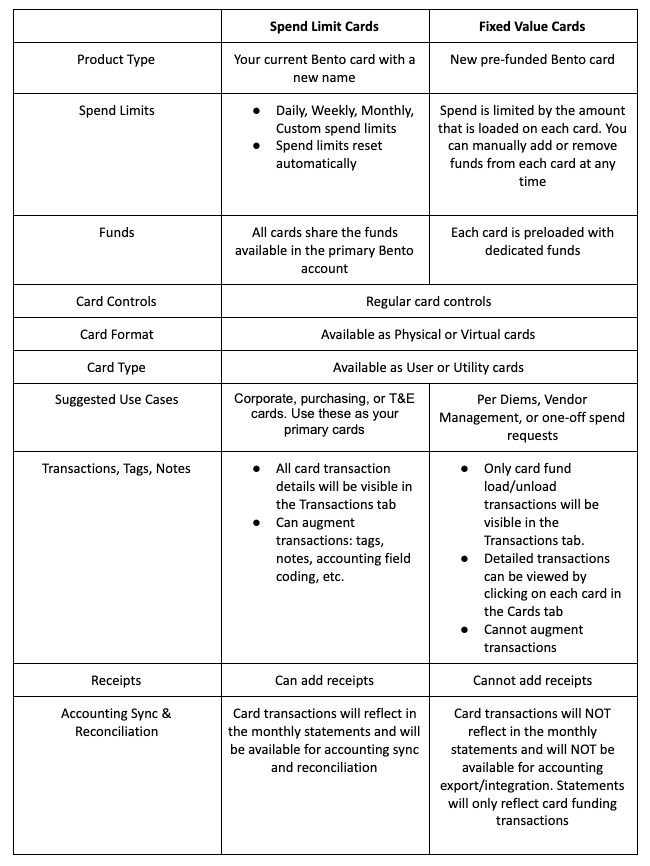 To Create Fixed Value Cards

1. Click on Add Card under the Fixed Value Cards section in your Cards tab

2. Choose the desired Card Option and Card Format > Next

3. For Virtual Cards click Submit

4. For Plastic Cards
- Select an existing cardholder or invite a new user > Next
- Enter the amount you want to load to the card and set your desired card controls
- Select Shipping Address > Select Shipping Method > Submit
To Manage Fixed Value Cards +

1. Click on Manage Fixed Value Card under the Fixed Value Cards section in your Cards tab

2. Click on the Manage drop-down menu for the card you wish to edit

3. You can choose to view Cardholder Info and the card's Transactions, edit Card Controls, Reissue, or Delete the card
---
---